ABOUT ME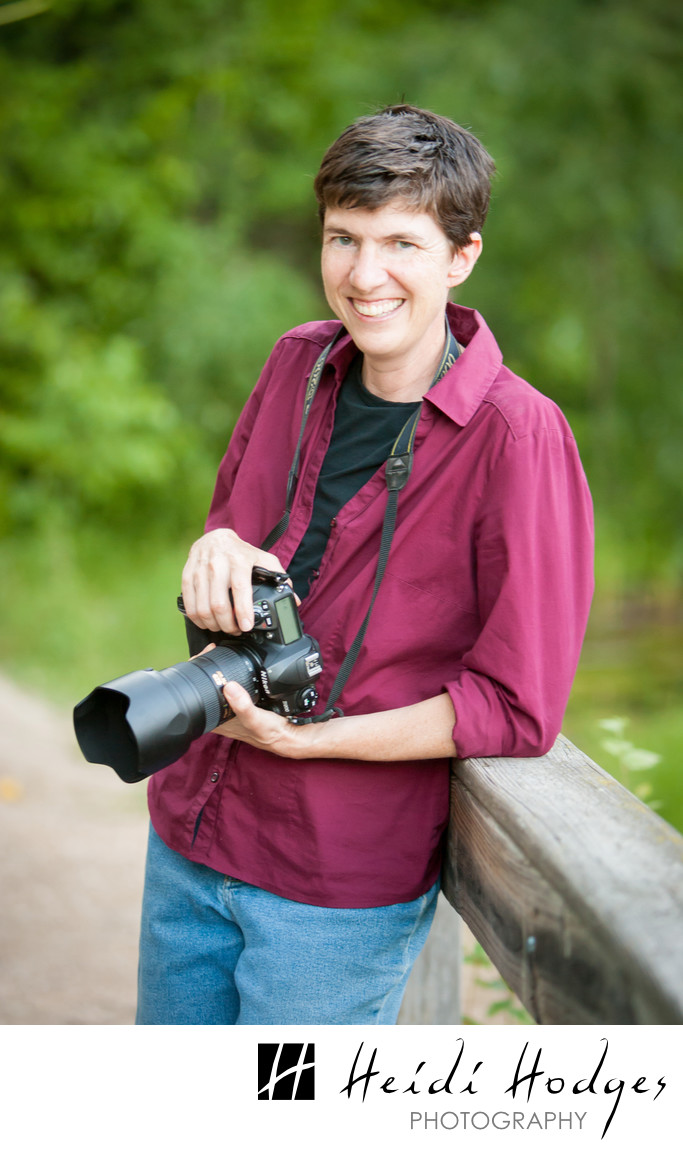 I'm not entirely comfortable talking about myself. A wedding is all about you. Not me. But it's customary—mandatory—to write a bio statement. And of course it makes sense: photography is such a big part of the wedding day, you need to know who your photographer is.
So, despite cringing with the suspension of humbled modesty, here it goes
The Beginning
My interest in photography started during my high school years in Kenosha, Wisconsin, where I learned the basic ins and outs of the art with guidance from a wonderful, dedicated teacher.
Success came early. During my senior year, I won first place in photography at the Wisconsin State Fair: The award was tuition to a week-long photography workshop at the University of Wisconsin Green Bay, taught byUW photography scholars. That same year, another photo won the top national photography award from the Scholastic Arts Association, the coveted Kodak Medallion of Excellence.
I knew I was on my way.
Right before high school graduation, while on tour at the University of Wisconsin Platteville, I was hired, on the spot, as a photographer for the university's marketing department, my first paying photography gig.
Eventually, I would become photo editor, and then editor, of the campus newspaper—my second paying photography gig.
I probably shouldn't mention my third gig—as a photographer at Six Flags Great America in Gurnee, Ill. If you've ever visited, you probably know the photographers who catch you as you enter. I was one of them. (Had to wear a brown polyester skirt, brown and white checkered shirt and a rust-colored vest. It was murder in the hot sun.)
After earning a BA in photography and technical communications (with minors in journalism, German and history) I struck out for Door County and a photography internship at the Door County Advocate, one of the largest non-daily newspapers in the U.S.
Two years later, after staying long past the prescribed internship tenure (I kept showing up, and they were too polite to tell me to leave) I earned a full-time position as photo editor at that paper. It was a dream job; I was privileged to work there for over a decade. During that time, I also freelanced photography for the Milwaukee Sentinel as well as different magazines and trade brochures.
Over the years, my work has been recognized at state and national levels, from organizations such as the Wisconsin Newspaper Association, the National Newspaper Association, the Wisconsin News Photographers Association, the Wisconsin Press Women, and the National Federation of Press Women where I once was awarded the top honor for all-around journalism—an award that recognized my photography and writing.
Notably, at one point in my journalism career, I was a finalist for the Nikon Sabbatical Grant, an award that funds a photojournalist's efforts to document a particular subject for a year. My grant application was to study the commercial fishing trade. (It would have been a dream, if it had happened.)
Instead, I continued with my work at the paper, covering the community I loved and training new photography interns every summer. Some of those interns—they covered the summer tourist season in Door County--ended up with fantastic photography careers, working on major daily newspaper, and some have remained good friends over the years. (Our conversations are peppered with photography tech talk. It's a photo nerd's paradise.)
During my tenure at the newspaper, I worked under the tutelage of a Pulitzer-nominated editor, who helped me refine my photo editing skills, and pushed for a level of quality not often seen in small-town papers. He has remained my mentor over the years.
In 2013, I was named Editor in Chief of the Door County Magazine, a quarterly publication I'm incredibly proud to be part of. Through the magazine, I get to showcase the land I love: the Door peninsula. (It's also a way to keep involved in the world of journalism, something that's ingrained in my soul.)
Clearly photography has been my life-long passion and pursuit. Getting inside and capturing the feeling of an event is what I love doing most. And I do it unobtrusively and comprehensively, the result of years of professional photojournalism experience.
But, it's not all heavy lifting. Wedding photography is really fun. And it was something I decided to pursue, starting in 2000.
Moving from full-time photojournalism work to event photography was a natural progression.
OK. Some colleagues thought I was selling out. But I know better. A wedding is an emotional event. And good wedding photography is so much more than a collection of staged photos. I was on the ground floor of the revolution in the industry—changing from packages of mostly-boring group photos to a complete documentary of the day. I was there when creativity and artistic vision was added to wedding photography.
It was a perfect fit for my background.
As witness and chronicler, I get to be part of one of the most important days in a couple's life. It's my privileged duty to capture the essence of the day in a way that endures.
That's powerful stuff—and it's something that excites me every time.
All along, while working as a photojournalist, I had been doing weddings on the side. In the end, I found wedding photography was my true passion.
The Art of Wedding Photography
In recent years, I have taken my wedding photography to a new level. I sought out mentors in the industry, working with top photographers from the West Coast, East Coast and Midwest. I had the unbelievable opportunity to "second shoot" with Michael Segal from L.A., visit Doug Gordon's studio and learn from him in New York, and study with a master photographer from Chicago.
In order to observe how other big-name photographers operate, I worked weddings in Milwaukee alongside local phenoms. Then, to keep fresh and inspired, I hooked up with a major studio for expanded opportunities to do weddings in urban areas, too.
To ensure I don't let my guard down, I network with photographers from around the world in forums, and attend seminars (on-line and in person.) It's a constant process of evolving and refining skills. You can never rest on your laurels. There's always a new level to reach.
Learning from these wedding photography masters—the best of the best—has completely refined my vision and sharpened my techniques. I've drawn from all of them and adapted their approaches to my own style. The result is timeless photography tailored to each of my clients.
Here's what it comes down to: As a former journalist, I am a crazy freak for finding the right moment and finding a way to make it work in any condition. As a wedding photographer, I am constantly vigilant, watching all the important details.
My full attention is on providing you with photos that will be part of your family's legacy for a lifetime.
Why Wedding Photography Matters
This is one very special day. I don't need to tell you that. Everyone has gathered to love and support you. Some may have traveled. They prepared and dressed in their finest. All the details of the long-planned day have finally come together. There will never be another moment quite like this again.
Absolutely, you'll look forward to seeing the images after the event so you can relive the day.
But perhaps even more importantly—and it may be hard to imagine this now--photos from your wedding will be the gift you hand down to the next generation.
The idea of this was driven home recently while I photographed a 50th-anniversary vow renewal in the Chicago area. The close-knit family gathered around photos from the original wedding, with the couple's grown children and grandchildren talking, laughing and gushing over the couple's dress, their youthful love, and the humble surroundings from that long-ago day.
Those images are an important part of the family's legacy. They represent the glue that holds them all together.
There were beautiful decorations and music and gifts during that special anniversary celebration. It was a spectacular affair. But it was a photograph that stopped everyone in their tracks.
This may be your future. Maybe someday, 50 years down the line, photos from your wedding will be on display at a celebration. And there will be photos from a day when everyone was present and surrounding you with love.
This day is the beginning of the story. The photos are a document. A testament. A treasure for the next generation and all the ones to come.
Wedding photography is powerful. Timeless. And very, very important.
Heidi at a Glance
The bio statement above will tell you about me. Credentials, degrees, experience. It's all there. You can check it out.
But it doesn't tell you who I am.
So let me introduce myself.
I live in Door County, Wisconsin. I love it here. LOVE it.
Besides photography, writing is one of my passions. In fact, I write a weekly newspaper column and do a little freelancing (even won awards for it), and am the editor of Door County Magazine.
I am a cancer survivor.
I have two sons. So if children are invited to your wedding, don't worry. I get them.
I juggle. Really. I actually worked as a juggler at the Bristol Renaissance Faire during college summer breaks.
I love theater. In fact, I believe life should be lived like a lavish Broadway musical. We should be singing all the time.
I grew up in Kenosha, Wisconsin, with Milwaukee and Chicago in my back and front yards. I love Door County weddings, but I also love traveling to my old stomping grounds for a shoot.
I adore German Shepherds.
In what was one of the most powerful experiences of my life, I photographically covered the fall of the Berlin Wall.
Once, I touched a reef shark while scuba diving in Florida.
I couldn't have had more fun in college if I had tried.
Is there any other music besides 80s music? Bring on the Smithereens, Depeche Mode, Peter Gabriel and Aha. I've got concert stories. Don't get me started.
I work out at the Y. All of it—Pilates, Tai Chi, Fit for Life. I'm not the best, but definitely not the worst.
All my friends are great cooks. It's a requirement.
Remember Johnny Cash? I shook hands with him.
As long as I'm name-dropping, let me brag on this: I used to photograph Packer games from the sidelines. Yeah, it's as awesome as it sounds.
I hate my smart phone. No wait. I love it.
People say I'm "laid back." But that's not true. Yes, I'm calm. But I'm hard-working and vigilant.
There's nothing I like better than seeing the groom cry (a little) during the vows. That gets me every time. Also, the father-daughter/mother-son dances. Oh my gosh.